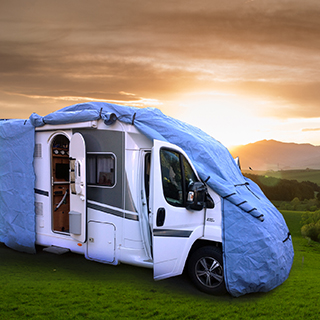 This year CAPA® celebrates their 10-year company anniversary! As the first supplier of this kind in Europe we began with the development of breathable all-weather protective covers for horse trailers in 2007.
After a prolonged testing phase and the final development of CAPAtex® and the CAPA principle a trademark was issued in 2012 for the first series of protective covers for horse trailers. CAPAtex® is a highly breathable, UV-light resistant and waterproof polypropylene fleece. It is manufactured from small, biaxially stretched mono-filaments in a special taffeta process and is surface-friendly, light and affordable.
Through the also trademarked CAPA principle all CAPA all-weather protective covers are able to be applied easily and without the need of additional tools, within just 2-3 minutes, even to mobile homes of 8m in length and 3m in height. All that is required are 2 people and 2 broomsticks. Our CAPA protective covers are serially produced in standardized sizes. They are suitable for nearly all conventional vehicle types.
Meanwhile, our product range includes a series of protective covers for different applications. CAPA all-weather protective covers are applicable for caravans, mobile homes, box vans, horse trailers, carriages, glider plane trailers and most recently for tractors, as well.
In addition to different sizes we also offer various colors. Our product developers constantly observe new market developments and adjust the CAPA all-weather protective covers accordingly.
All CAPA products are regularly available ex stock and can be delivered within just a few hours.
https://www.capa-shop.de/wp-content/uploads/1.jpg
320
320
CAPA-Schutzhauben
https://www.capa-shop.de/wp-content/uploads/logo.png
CAPA-Schutzhauben
2018-09-24 15:49:24
2019-04-08 15:32:00
10-YEAR COMPANY ANNIVERSARY